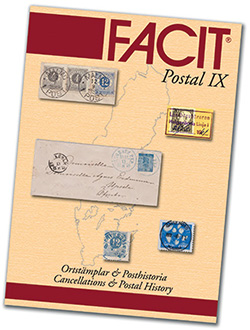 FACIT Postal IX now available!
After six years, it is with great joy that FACIT Förlags AB is able to present FACIT Postal IX, the indispensable catalogue for collectors of Swedish postal history and town cancellations.
Apart from price adjustments and updates of newly discovered dates and cancellations in all chapters, this version of the catalogue also contains the following:
Postal rates for letters have been updated until 2015.
The section with Swedish covers has been supplemented when it comes to letters to abroad.
A new column has been added for today's modern cancellations, normal cancellation type (Nst) 64.
The square cancellations of the rural mail service have been extended with the rectangle cancellations and the square ones have been dramatically complemented.
The modern rural mail service cancellations have been dramatically updated.
The steamship mail has been revised, specifying with the names of vessels on each route.
Initiated cataloguing of ship-, shipping company- and route cancellations is included.
Malmö Post cancellations are implemented.
Postal labels of the Registration and Insurance types have been revised.
A listing of labels for Saturday delivery of mail has been added.
The reverse alphabet index to help decipher cancellations has been greatly improved.
The price of the catalogue is SEK 500 incl. VAT (p & p will be added).
What do my stamps cost?
The first FACIT catalogue was issued in 1947. It has since become the standard reference and a "must-have" for collectors of Nordic philately. Armed with the right FACIT you not only have a current price catalogue with all issued stamps, but also a handbook in the art of stamp collecting. It is written by a catalogue committee of about 20 active, distinguished philatelists, each closely monitoring the market in their area of expertise.
FACIT Special Classic contains all the Nordic stamps with varieties and specialties until 1951.
FACIT Norden contains all the Nordic stamps until the latest issue. However, only stamps from 1951 onwards are described with varieties, earlier stamps are described only with issue, denomination and price for a normal stamp.
FACIT Postal is issued every five years and is focussed on Swedish town cancellations and postal history, a popular philatelic area of interest. SEK 500 incl. VAT (p&p will be added).
FACIT Sverige is issued every two years and is a simpler catalogue with Swedish stamps only. The catalogue is filled with beautiful high quality colour images and the content is easy to grasp. This is the perfect catalogue for the beginner or for anybody in need of a quick valuation of their stamps. SEK 250 incl. VAT (p&p will be added).