FACIT Special 2015 available now!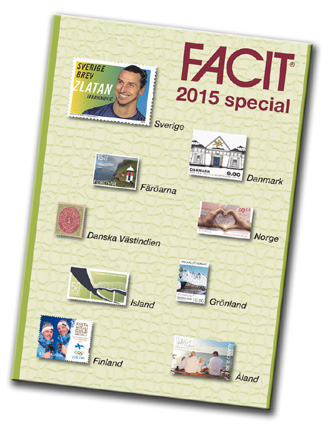 Among the news:
Swedish customs revenue stamps, a brand new section by Per Sundberg
Two much-awaited sections have been reinstated and updated: Swedish revenues and Swedish postal stationery
All newly issued stamps from the Nordic countries
Price updates
Various corrections
Updated membership roster for the Swedish Stamp Dealers Association
Adverts from stamp dealers and stamp auctioneers
Adverts from Nordic postal services
Price SEK 500 incl. VAT (p&p will be added). Order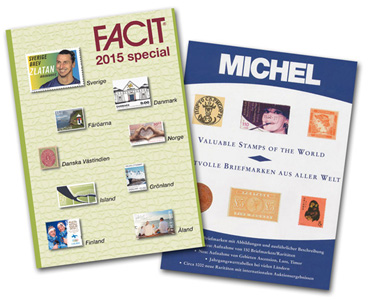 Special offer: FACIT Special 2015 + MICHEL Valuable Stamps of the World
For a limited time, we are offering FACIT Special 2015 and MICHEL Valuable Stamps of the World for the special price SEK 700 (normal price SEK 1100).
Order
What do my stamps cost?
The first FACIT catalogue was issued in 1947. It has since become the standard reference and a "must-have" for collectors of Nordic philately. Armed with the right FACIT you not only have a current price catalogue with all issued stamps, but also a handbook in the art of stamp collecting. It is written by a catalogue committee of about 20 active, distinguished philatelists, each closely monitoring the market in their area of expertise.
FACIT Special is an annual specialized catalogue featuring all stamps of the Nordic countries in colour. It is aimed at the more advanced collector but is designed to enable anybody to easily find the desired information. SEK 500 incl. VAT (p&p will be added).
FACIT Postal is issued every five years and is focussed on Swedish town cancellations and postal history, a popular philatelic area of interest. SEK 475 incl. VAT (p&p will be added).
FACIT Sverige is issued every two years and is a simpler catalogue with Swedish stamps only. The catalogue is filled with beautiful high quality colour images and the content is easy to grasp. This is the perfect catalogue for the beginner or for anybody in need of a quick valuation of their stamps. SEK 250 incl. VAT (p&p will be added).
Philatelic news
Postiljonen invites you to the "Malmö 3rd International Philatelic Summit"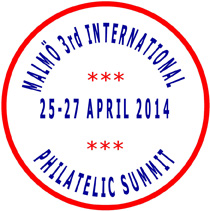 The Summit is open for applications until 31 December 2013, but we expect it might be fully booked much earlier. Eight great philatelists are invited as speakers and you can read about them and their topics in the official invitation.
Malmö Summit Application Form 2014
Fakes, Forgeries & Experts Journal #15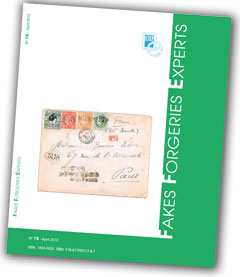 Fakes, Forgeries & Experts Journal is back with an excellent new issue. FFE is published by Postiljonen, edited by Knud Mohr and has become an appreciated working tool at international exhibitions. In this issue there are 21 articles dealing with classic material but also with modern types of forgeries.
Read more here!
A Most Spectacular Reunion!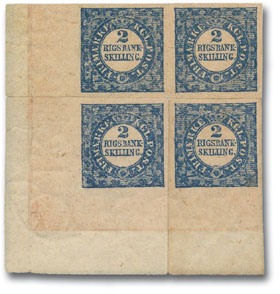 The Fakes, Forgeries & Experts Journal and Postiljonen AB present a fabulous philatelic item - a previously unknown, reconstructed block of four of Denmark's first issue, the 2 RBS. Read more here! (1.5 MB PDF file)