Large Gold Medal to FACIT Special Classic 2017
For the first time ever, a Large Gold in the literature class has been awarded to a stamp price catalogue. During the international stamp exhibition FINLANDIA 2017 in Tampere 24-28 May, FACIT Special Classic 2017 was awarded no less than 95 points and thereby a Large Gold Medal. Also FACIT Norden 2017 received very high scores and was with 93 points awarded a Gold Medal.
FACIT Special Classic and FACIT Norden emerged when in 2016 chief editor Gunnar Lithén decided to divide FACIT Special into two parts. FACIT Special Classic contains all Nordic stamps up to 1951 with varieties and specialties. FACIT Norden contains all Nordic stamps from 1951 onwards with varieties, the period before 1951 is described with issue and denomination, without varieties. Both catalogues also contain current editorial material and have been highly appreciated by the collectors.
FACIT Sverige 2017 is now available!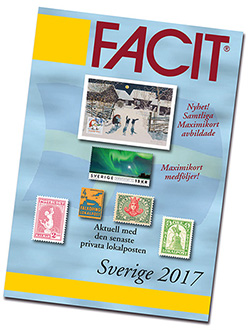 This year's edition of FACIT Sverige has now been released - order it from FACITstamps!
FACIT Sverige 2017 features all Swedish stamps from the beginning in 1855 until 31 December 2016. All values are described with prices for unused (both hinged and never hinged) as well as cancelled stamps and with all the different stamp designs depicted in colour.
The catalogue is written in Swedish (with most parts in English as well) and is very user-friendly. A gift from PostNord is also enclosed!
Among the contents of this year's edition:
The Swedish private local post is updated with all the latest issues.
Updated section with the very rare labels from "Jämtlands Kommunikationsbolag" (J.K.B.) and tags from "Adams Express" in Stockholm.
A page featuring "Minne af Stockholms Stadspost".
Brand new section about the Maximum Cards, pictured in the catalogue for the first time using no less than 550 images.
A gift from PostNord in the form of a Maximum Card.
Updated membership roster for the Swedish Stamp Dealers Association.
No less than 352 pages.
Price: SEK 300 incl. VAT (p&p will be added).
What do my stamps cost?
The first FACIT catalogue was issued in 1947. It has since become the standard reference and a "must-have" for collectors of Nordic philately. Armed with the right FACIT you not only have a current price catalogue with all issued stamps, but also a handbook in the art of stamp collecting. It is written by a catalogue committee of about 20 active, distinguished philatelists, each closely monitoring the market in their area of expertise.
FACIT Special Classic contains all the Nordic stamps with varieties and specialties until 1951.
FACIT Norden contains all the Nordic stamps until the latest issue. However, only stamps from 1951 onwards are described with varieties, earlier stamps are described only with issue, denomination and price for a normal stamp.
FACIT Postal is issued every five years and is focussed on Swedish town cancellations and postal history, a popular philatelic area of interest. SEK 500 incl. VAT (p&p will be added).
FACIT Sverige is issued every two years and is a simpler catalogue with Swedish stamps only, including the latest local issues. The catalogue is filled with beautiful high quality colour images and the content is easy to grasp. This is the perfect catalogue for the beginner or for anybody in need of a quick valuation of their stamps. SEK 250 incl. VAT (p&p will be added).