Have a really nice summer!
Our Malmö office will be closed for the summer 6-17 July and will be partially staffed 20 July-7 August.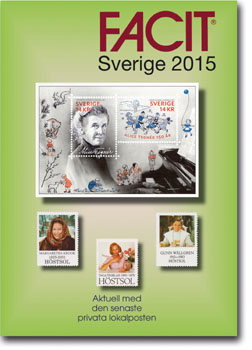 The new Facit Sverige is now available!
FACIT Sverige is the catalogue featuring all Swedish stamps in colour. Order the catalogue here!
What do my stamps cost?
The first FACIT catalogue was issued in 1947. It has since become the standard reference and a "must-have" for collectors of Nordic philately. Armed with the right FACIT you not only have a current price catalogue with all issued stamps, but also a handbook in the art of stamp collecting. It is written by a catalogue committee of about 20 active, distinguished philatelists, each closely monitoring the market in their area of expertise.
FACIT Special is an annual specialized catalogue featuring all stamps of the Nordic countries in colour. It is aimed at the more advanced collector but is designed to enable anybody to easily find the desired information. SEK 500 incl. VAT (p&p will be added).
FACIT Postal is issued every five years and is focussed on Swedish town cancellations and postal history, a popular philatelic area of interest. SEK 475 incl. VAT (p&p will be added).
FACIT Sverige is issued every two years and is a simpler catalogue with Swedish stamps only. The catalogue is filled with beautiful high quality colour images and the content is easy to grasp. This is the perfect catalogue for the beginner or for anybody in need of a quick valuation of their stamps. SEK 250 incl. VAT (p&p will be added).